Tile Flooring in Hendersonville, NC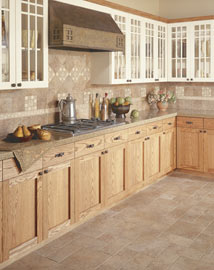 Add character to your home or business with tile flooring in Hendersonville, NC. Our store stocks a diverse array of ceramic tile, porcelain tile, and slate tile products. Whether you are aiming for a sleek, contemporary look or something more rustic and traditional, we have flooring for you in stock. All of our tile flooring products are durable and made by trusted brands, like Floorcraft™. Visit our showroom to browse our products and find the right flooring for your property.
The Benefits of Tile Floors
Many homeowners choose tile because of its enduring beauty. It is one of the most long-lasting flooring types available. Since it is easy to clean and difficult to damage, it always looks great even after years of heavy foot traffic. It is also an ideal choice if you are concerned about air quality in your home. These floors do not hold onto dust, dirt, or dander so they are a good choice for homes with allergy sufferers. The composition of tile is also free from volatile organic compounds (VOC), which can cause health problems.
No matter what type of interior design you prefer, you are sure to find tile at our store that meets your desires. With numerous colors, textures, shapes, and sizes available, a tile floor can complement almost any kind of home or business. Browse our store to discover different tile styles from our major brands. If you need assistance exploring the many available options, one of our store associates is happy to help you. The brands we carry are known for their dependability, durability, and customization options:
Floorcraft ™
HomeCraft™
Design Distinctions ™
Dal-Tile ™
American Olean ™
Choose from Ceramic, Porcelain, or Slate Tile
Increase the value of your home with ceramic, porcelain, or slate tile from our flooring store. Ceramic tile has been adorning countless houses and businesses throughout the nation for decades. More recent innovations have made porcelain tile very popular with property owners as well. Porcelain is a newer form of ceramic and very dense, increasing its protection against moisture damage and staining. Our store carries hundreds of different tile styles. Come browse our selection of elegant tile floors and find the product that best suits your needs in appearance, performance, and cost.
Ceramic Tile
Ceramic tile is versatile because it can be cut in many different shapes and sizes, enabling the opportunity to create completely customizable designs. Whether you are going for a solid color configuration or an elaborate design, ceramic is highly adaptive to your interior design needs. Our flooring showroom representative can show you the most popular colors available, as well as offer helpful advice on how you can begin making your own unique patterns.
Porcelain Tile
For a beautiful and long-lasting floor, choose porcelain tile. Porcelain is fired at much higher temperatures, which makes it denser than other flooring options. Due to this higher density, it is able to resist moisture, stains, and dents with ease. As such, porcelain is a great option for both indoor and outdoor areas. On top of that, additional glazes and finishes allow a diverse array of customization options. As always, our design consultants can direct you to the styles and colors that will make your interior stand out.
Slate Tile
Achieve a traditional look in your home or business with slate tile flooring. Renowned for its unique colors and textures and high level of scratch resistance, slate lends an air of timeless beauty to your property. When sealed regularly, it can last forever with little other maintenance. Learn more about this flooring option by stopping by our showroom.
Slate flooring is also a sound choice for active households. The dense composition of this flooring option means that it can withstand everyday foot traffic with ease. This makes slate a great addition to places that see a lot of activity, such as the living room. The spill-resistant makeup of this tile also makes it a sound option for both the kitchen and the bathroom as well.
Slate is considered an "all-natural" material since it is made completely from naturally occurring rock. As such, the stunning, earthy tones of slate complement the interiors of many homes. Its dense composition also means that it is highly durable. By balancing form and function, this tile flooring option will serve you faithfully for years to come.
Professional Tile Flooring Installation By Our Team
Ensure your tile flooring investment lasts you well into the future by having your tile flooring installation completed through our store. Correct installation is paramount to ensuring the durability of your flooring. Our installation team is trained to properly handle all of the products sold in our store, including all brands and styles of tile flooring. By arranging for installation to be handled by our certified team, you can also save a significant amount of money. For more information about our installation process, reach out to our store.
Save time, money, and energy with our efficient installation services. We can coordinate a team of professional flooring contractors to complete your entire remodeling project for you. Thoroughly trained and experienced in flooring removal and replacement, our installers make careful measurements of your home to ensure accurate and long-lasting results. We also use the latest equipment and installation methods to ensure your investment is both strong and visually appealing.
Ultimate Confidence Guarantee
Dependability, customer satisfaction, and lasting value form the cornerstones of our business. When it comes to remodeling, we are completely committed to your satisfaction. In fact, our tile flooring products are backed by The Ultimate Confidence Guarantee. Our Guarantee is a series of warranties that work in concert to deliver great value for your investment. Among them is a lifetime guarantee on your installation. If you find any errors in our workmanship, then we will return to make it right.

Contact our store today to learn more about our extensive inventory of tile flooring. We proudly serve the communities of Hendersonville, Asheville, South Asheville, Brevard, and Trion, North Carolina.