Luxury Vinyl Flooring in Hendersonville, NC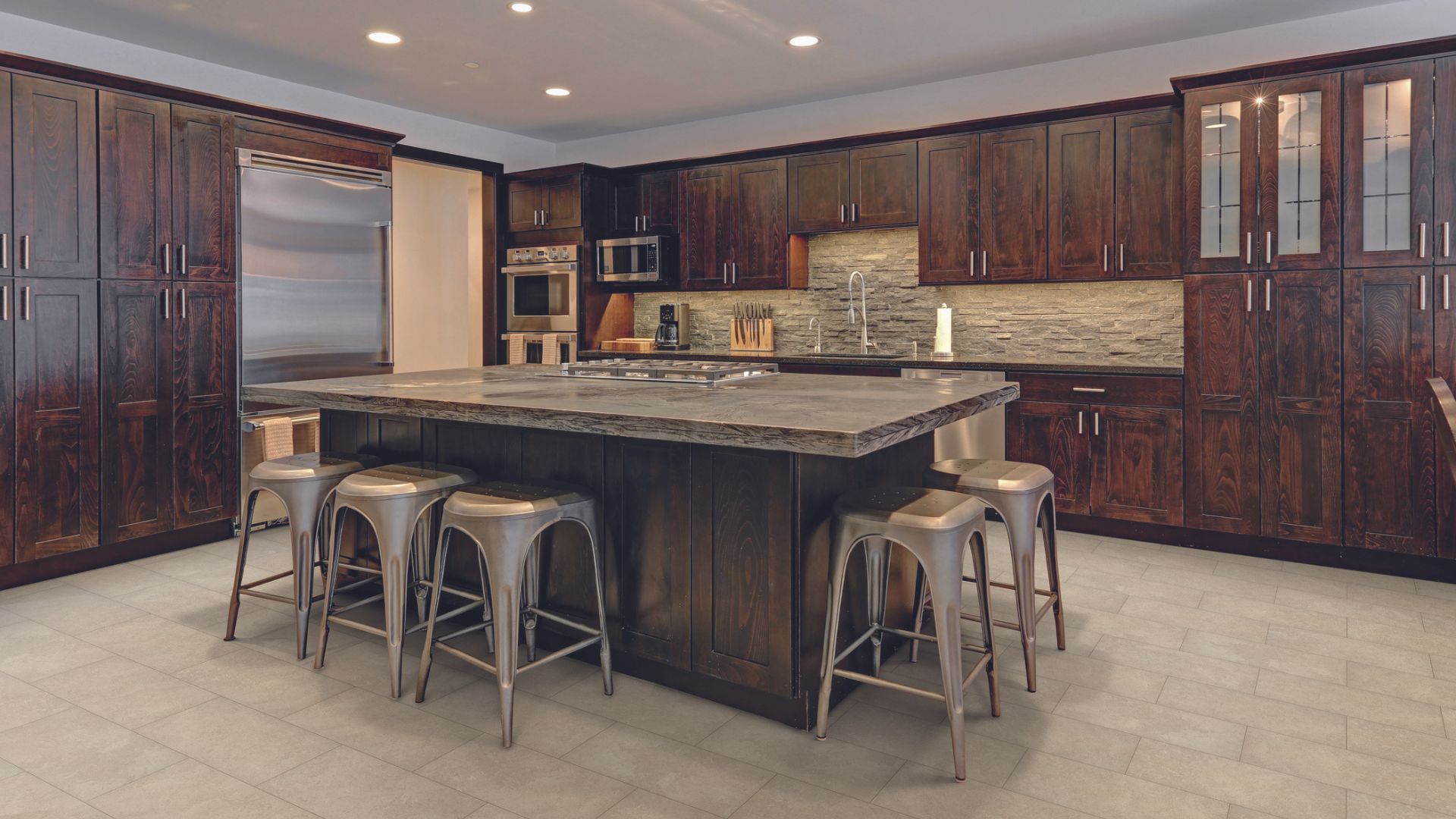 Transform your Hendersonville, NC, home with the exquisite luxury vinyl flooring options at Flooring America WNC. Our dedicated flooring store is committed to helping you create a beautiful living space that perfectly suits your style and preferences. Whether you lean towards a modern or classic look, you'll find the perfect flooring in our extensive selection.
Our goal at Flooring America WNC is to make your dream home a reality. We're here to assist you in bringing your vision to life and creating a cozy and inviting place to live. We take pride in offering carefully selected flooring options and expert installation services. Together, these elements can transform any room in your home into a stunning space.
Explore our luxury vinyl flooring choices in Hendersonville, NC, at Flooring America WNC. With our help, you can make your living spaces truly amazing. Trust us to provide the ideal flooring solution that matches your style and lifestyle.
What Types of Vinyl Flooring Are There?
In the world of flooring, luxury vinyl offers a diverse range of choices tailored to your unique style and practical needs. Hendersonville, NC, residents can enjoy the beauty and functionality of vinyl flooring in two primary forms:
Luxury Vinyl Plank (LVP): Luxury vinyl plank flooring is a masterful mimic of your cherished hardwoods, replicating their aesthetics, textures, and finishes with remarkable precision. While it resembles hardwood planks, LVP surpasses in durability, affordability, and ease of maintenance. It's rich visuals and top-notch performance capabilities bring lasting value to your home. Whether you have playful pets, active children, or a bustling lifestyle, LVP can handle it. Resistant to everyday wear and tear, it thwarts scratches and dents effortlessly. Unlike natural wood, it remains impervious to moisture, eliminating worries of expansion or contraction.
Luxury Vinyl Tiles (LVT): Luxury vinyl tiles are an exceptional choice for crafting the home design of your dreams. They mirror the appearance of traditional tiles while offering enhanced durability and comfort. Beneath their sleek surface, LVT is engineered with layers that provide a more comfortable underfoot feel. This makes them particularly well-suited for areas like kitchens, where you often stand.
Advantages of Luxury Vinyl Flooring
Luxury vinyl flooring offers a host of benefits that make it a smart choice for homeowners:
Exceptional Durability: Luxury vinyl flooring is incredibly tough and capable of easily withstanding high-traffic areas and daily wear and tear.
Moisture Resistance: It is resistant to moisture and spills, making it an ideal choice for rooms prone to humidity, such as kitchens and bathrooms.
Versatile Aesthetics: Available in a wide range of styles, colors, and patterns, luxury vinyl flooring can mimic the appearance of natural materials like hardwood or stone, allowing homeowners to achieve their desired look.
Low Maintenance: Cleaning and upkeep are hassle-free, saving you time and money over the long term.
Comfort Underfoot: The soft surface and built-in insulation of luxury vinyl flooring provide excellent comfort and a cozy feel in your living spaces.
Cost-Effective: It offers the look and feel of high-end materials without the high price tag, making it a budget-friendly flooring option that doesn't compromise quality.
Luxury Vinyl Flooring: Water-Resistant vs. Waterproof
When considering vinyl flooring for your Hendersonville home, it's crucial to differentiate between water-resistant and waterproof options, as this choice significantly affects performance and longevity.
Water-Resistant Vinyl Flooring:
This type of vinyl can fend off moisture to some degree, managing everyday spills and minor splashes effectively. However, it's essential to exercise caution, as prolonged exposure to moisture, like from bathtub splashes or wet footwear, can gradually permeate the surface. This can lead to problems like mold growth and the warping or bubbling of individual floor pieces. To prevent long-term issues, it's vital to maintain a dry subfloor.
Waterproof Vinyl Flooring:
Waterproof vinyl flooring sets the standard for moisture resistance. Each plank or tile in this category features a secure, watertight seal that prevents moisture from infiltrating the seams. Its multi-layered design not only enhances overall stability but also equips it to withstand fluctuations in humidity and temperature. The specialized core of waterproof vinyl allows for safe moisture evaporation, safeguarding the underlying subfloor.
Moreover, waterproof vinyl is easy to install, requiring minimal labor and subfloor preparation. It's ideal for high-moisture areas like kitchens, bathrooms, basements, entryways, and laundry rooms. Opting for waterproof vinyl flooring for your Hendersonville home guarantees enduring performance and worry-free aesthetics, making it a superior flooring solution.
Professional Luxury Vinyl Flooring Installation
Get the best value from your purchase and ensure that your home is protected during a flooring project by turning to our team to install your new floors. When you turn to our team for luxury vinyl flooring installation, you can rest easy knowing that your home is in good hands. A DIY install can lead to shoddy craftsmanship. We take the proper steps to ensure that everything goes smoothly, resulting in the finest finished product possible. Following purchasing your luxury vinyl floor, you can schedule an appointment with our team at a time that works best for you. An Ultimate Confidence Guarantee backs our LVP and LVT products. We are positive you'll love our installation job, but if you are dissatisfied, call us within 30 days. We will replace your product with a similar option free of charge.
Contact us to learn more about our luxury vinyl flooring selection and installation services. We proudly serve customers in Hendersonville, NC, and the surrounding areas.