Laminate Flooring in Hendersonville, NC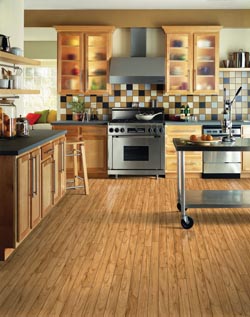 Transform your home's appearance when you choose laminate. Today's laminate products offer more value than ever, thanks to their stylish looks, remarkable durability, and low maintenance needs. Visit Flooring America of Western North Carolina to browse the options available and find the perfect laminate flooring in Hendersonville, North Carolina for your renovation project.
This resilient flooring option does well in every room of the house, including wet areas like bathrooms, kitchens, laundry rooms, and entryways. Furthermore, it's perfect for households with kids and pets since laminate is so hard to stain and so easy to clean. Stop by our showroom and speak with one of our design specialists to choose the best laminate flooring for your home.
Get the Look of Wood or Tile
Laminate is among the most versatile flooring options; nearly any kind of design is possible, from elaborate patterns to simple, classic styles. Our store even sells laminate tile and wood flooring that imitates the appearance of genuine ceramic and hardwood.
Ceramic tile and real wood floors are popular choices among homeowners. However, they are not practical for every renovation project. Fortunately, modern manufacturing processes allow the laminate to replicate the look and feel of these sought-after materials. Many people cannot tell the difference between tile or hardwood lookalike laminate floors and the real deal without closer examination. See for yourself how beautiful laminate can be by exploring our showroom.
Why Homeowners Love Laminate
Laminate comes with a variety of perks. First of all, it's easy to find a laminate style that complements your décor and suits your lifestyle. There's a diverse array of colors and patterns available, as well as different performance advantages across brands. Talk to our team to get a product recommendation tailored to your specific design goals.
Homeowners also love laminate floors because they are easy to keep clean. Basic sweeping or mopping is all you need to keep your laminate free of debris. Most spills can simply be wiped up. Likewise, there's no need for any special maintenance. Since laminate is so low maintenance and built to handle heavy foot traffic, it can look like new even years after installation.
Leave Installation to Your Team
Protect the investment you are making in your home by getting laminate flooring installation from our team of specialists. We do the job right, so you can avoid the needless repair costs that come from substandard installation. Best of all, our trained installers handle all the hard work for you. Sit back and relax -- before you know it, your new floor will be ready to show off.
Contact us to learn more about our wide selection of laminate products and our installation options. We proudly serve the communities of Western North Carolina, including Hendersonville, Asheville, Brevard, Trion, Columbus, and more.