Kitchen Backsplashes in Hendersonville, NC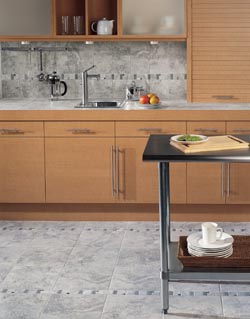 Create a focal point in your cooking space when you choose to install new kitchen backsplashes in Hendersonville, NC. No matter what the theme of your kitchen is, our local showroom features endless options to choose from for your new design. With custom tile backsplashes, you will give your kitchen visual appeal while you protect the walls from cooking grease and other potential dangers. We invite you to work with our designers to create a beautiful new setup that makes your kitchen stand out for all of the right reasons. Visit us today to see stone, marble, and tile backsplashes in a wide array of colors and designs.
While many homeowners add tile backsplashes to their kitchens to create a standout style, these products offer a series of special benefits for cooks of all levels. By choosing marble, tile, or stone backsplashes, you will prevent liquids and food from staining your walls. These unique products are built to stand up to everything from steam to hot oil. Whether you are a professional chef or you still have not learned how to boil water, it is important to safeguard your kitchen walls against damage. Hot oil splatters can cause issues to develop, leading to expensive repairs as a result.
Are you looking for a way to increase the value of your home without going over budget? Performing a kitchen backsplash installation is a small investment that will have a big payoff over time. Your new kitchen tile not only looks beautiful, but it helps defend against water damage, damp patches, and other common issues caused by heat and moisture.
Add Style to Your Space with Tile, Marble, & Stone Backsplashes
Let us combine the functional use of a backsplash with a design opportunity. The result is a backsplash that serves as a focal point for your kitchen. Our sales professionals are happy to provide you with ideas for color, design, and materials. Backsplashes are useful for both protection and design. They come in a variety of shapes and sizes to fit every type of kitchen. Rely on our design specialists to recommend a backsplash that uses colors from your kitchen to create a design element that pulls everything together.
Whether you know the exact look you are going for or you need a little extra help, we are here to assist you with your new backsplashes. We proudly provide customers throughout the region with an affordable and efficient way of updating their homes without extensive remodeling. Our specialists have the experience needed to create a gorgeous design that fits any décor. Because each material has its own benefits and features, we work with you to choose the right option for your specific needs.
Tile resists water and stains, and is strong and sturdy, so this material makes a wise choice for a backsplash. Use tile backsplashes to keep food from staining the wall behind the stove, or to prevent water from splattering and damaging the wall behind the kitchen sink.
Stone backsplashes offer solid protection and natural beauty to your kitchen. For maximum impact, you may want to choose stone that contrasts with the colors in the room. This focuses attention on the backsplash itself and provides a welcome contrast. Let us install stone backsplashes so the weight of the material adheres to the wall and offers long-lasting purpose and appeal.
Your kitchen becomes an elegant space with marble backsplashes. This stunning stone is prized for its distinct veining that creates visual appeal. Marble offers a classic look that works equally well in a traditional or a modern kitchen. The stone itself offers a sturdy surface that resists stains and damage.
Completing Your Backsplash Installation
After going through the design process, ensure that your new tiles and stones are placed properly when you turn to us for your backsplash installation. No matter what materials you have chosen, our professionals are here to help you. We focus on the details to ensure that every backsplash installation is performed the right way the first time. With us on your side, you will not have to worry about uneven tiles, crooked stones, or other flaws that can make your backsplash into an eyesore.
Count on us for the top service for your backsplash installation. Our technicians are trained and experienced in the proper way to install a backsplash so that it is practical, attractive, and long-lasting. We recommend our professional installation services for the best results when you choose any of our materials as backsplashes in your kitchen.

Contact our designers to choose the details of your new kitchen backsplashes. We create custom stone, marble, and tile backsplashes for customers throughout Asheville, South Asheville, Brevard, Trion, and Hendersonville, North Carolina.