Hardwood Flooring in Hendersonville, NC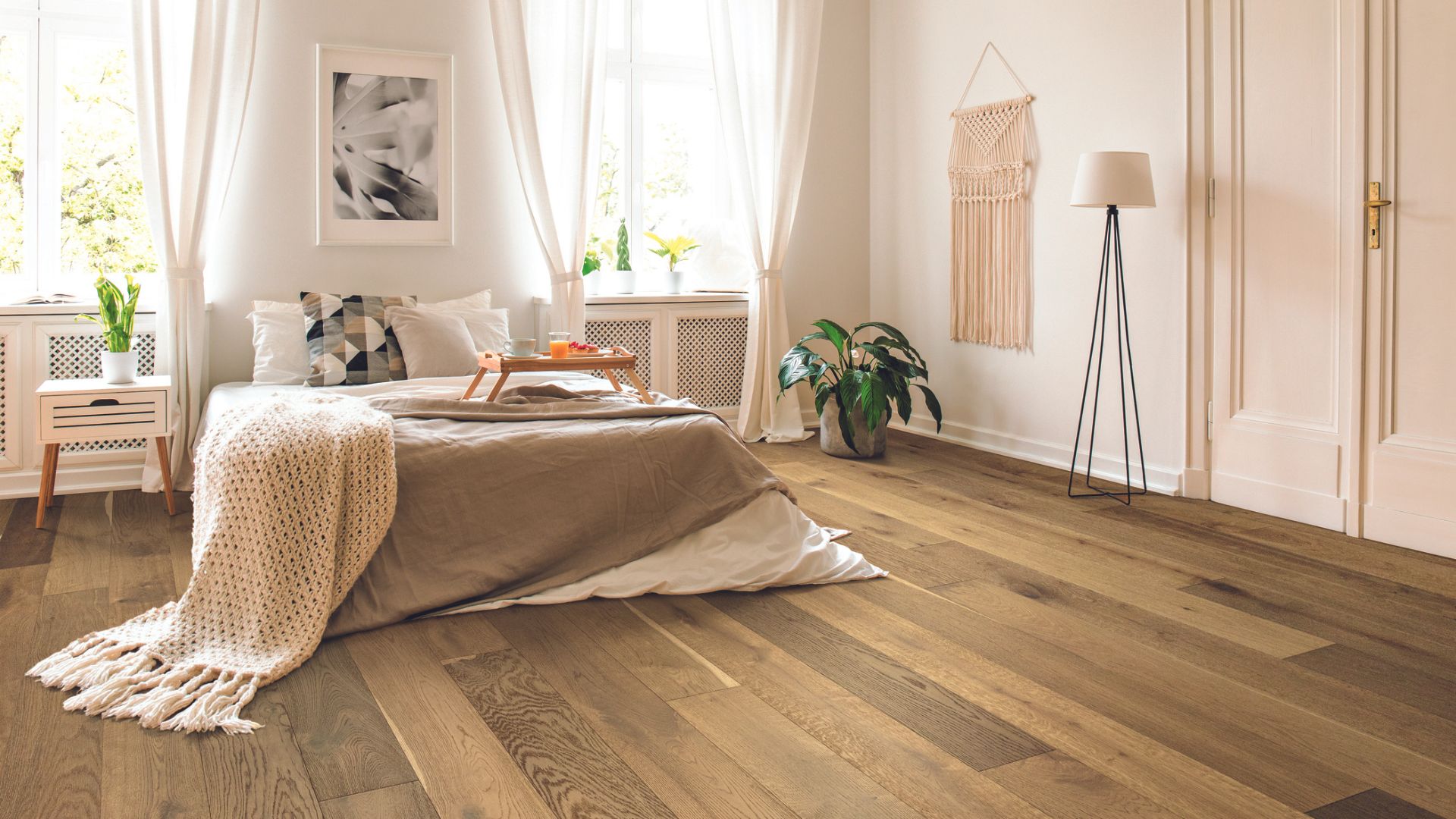 Enhance your Hendersonville, NC, home with lovely hardwood flooring that radiates warmth. Turn your rooms into cozy spaces that look classy too. At Flooring America of Western North Carolina, we're here to introduce you to the beauty and practicality of hardwood floors.
Our large showroom has a lot of different hardwood flooring options. Each one is both beautiful and durable. You can choose from rich oak, charming maple, or unique hickory. We have something perfect for every home or business, so everyone can enjoy nice hardwood floors.
Picking the right hardwood floor is an adventure we're excited to join you on. Our team of flooring experts is here to help. We can give you tips, answer any questions you hae, and guide you to finding your ideal hardwood type. We know each place is special, so we'll find the best hardwood for your home or business.
Imagine walking on amazing hardwood floors that stay beautiful for a long time and make your home look even better. Let us help make your flooring dreams real. Visit Flooring America of Western North Carolina and step into a world of beauty, strength, and pristine craftsmanship.
Types of Hardwood Floors
Discover the various hardwood flooring options available at Flooring America of Western North Carolina. As the preferred choice for Hendersonville, NC, locals, we only offer the finest hardwood flooring selections, including:
Solid Hardwood: Experience the timeless beauty of solid hardwood flooring. Each plank is crafted from a single piece of genuine hardwood, providing a natural and authentic look. With its sturdy construction, solid hardwood can withstand the test of time. You can choose from satin, matte, or gloss finishes to match your style. It's an excellent choice for bedrooms, living rooms, dining rooms, and hallways, as long as proper care is taken to maintain longevity.
Engineered Hardwood: Engineered hardwood flooring is constructed using multiple layers of wood, with a premium hardwood veneer on top. This unique design offers enhanced durability and resistance to moisture, water, and humidity compared to solid hardwood. If you're considering below-grade installations with common dampness, engineered hardwood is an ideal choice. It's particularly suitable for kitchens, bathrooms, and basements, providing both style and practicality.
Benefits of Hardwood Flooring
Hardwood flooring offers a host of advantages that combine style, durability, and ease of maintenance. Here's why hardwood floors are a fantastic choice for your Hendersonville, NC home:
Timeless Elegance: Hardwood floors bring a classic and timeless charm to your home. Their natural beauty never goes out of style, creating a warm and inviting atmosphere in any room.
Long-Lasting Durability: Hardwood is known for its exceptional durability. With proper care, hardwood floors can last for generations, making them a worthwhile investment.
Variety of Styles: From rich oak to subtle maple and everything in between, hardwood comes in a wide range of styles, colors, and finishes. This variety ensures you'll find the perfect match for your home's aesthetic.
Easy to Clean and Maintain: Hardwood floors are a breeze to clean and maintain. Regular sweeping and occasional mopping are usually all that's needed to keep them looking their best.
Improved Indoor Air Quality: Unlike carpets that can trap allergens and dust, hardwood floors don't provide a welcoming environment for allergens, making them a healthier choice, especially for those with allergies.
Enhanced Property Value: Installing hardwood flooring can increase the value of your home. Its timeless appeal and durability are attractive to potential buyers.
Versatile: Hardwood is versatile and can be used in various rooms throughout your home, from living areas to bedrooms and even kitchens. It offers a cohesive and seamless look.
Ageless Appeal: As hardwood floors age, they develop a unique patina that adds character and beauty, making them even more charming over time.
Choosing the Right Hardwood Floors
Choosing the right hardwood flooring involves considering several key factors to ensure it perfectly complements your space and lifestyle:
Color Palette: The color of your hardwood sets the tone for the entire room. Lighter tones like maple can create an airy, open feel, while deeper hues like oak offer a cozy, classic ambiance. Choose a color that harmonizes with your existing décor and personal style.
Grain Pattern: Each type of hardwood has a distinct grain pattern that contributes to its overall look. The grain can be subtle or bold, adding visual interest to your floors. Consider whether you prefer a sleek, uniform appearance or a more pronounced pattern.
Durability and Hardness: Different hardwood species vary in their hardness, which affects their resistance to wear and tear. For high-traffic areas, consider harder woods like oak or hickory, while softer woods like pine might work well in lower-traffic spaces.
Finish and Gloss: The finish you choose impacts the final look of your floors. Matte finishes provide a more natural appearance and are better at hiding scratches, while glossier finishes offer a more polished, formal aesthetic.
Maintenance: Think about the level of maintenance you're comfortable with. Lighter floors might show less dust but can reveal scratches more easily. Darker floors can mask scratches but may require more frequent cleaning.
Compatibility with Your Lifestyle: If you have kids, pets, or a busy household, choose a hardwood that can stand up to the demands of your daily life. Some woods are more resistant to scratches and dents, making them ideal for active households.
By carefully considering these factors, you'll be equipped to select the perfect hardwood flooring that aligns with your aesthetic preferences and functional needs. Let your chosen hardwood floor enhance the beauty and functionality of your living spaces.
Professional Hardwood Flooring Installation
Trust in our certified hardwood flooring installation professionals to install your brand-new hardwood flooring. We properly remove your old floors and replace them with the hardwood floors of your choice. From smooth and glossy to rugged and matte, we make your interior design visions come to life. You won't have to worry about us doing the job halfway when you hire our company. Our trained flooring professionals deliver superior installation services and customer care on every job we take on. We take great pride in our work, which shows in everything we do. After all, our customers are our greatest asset.
Our installations are backed by the Ultimate Confidence Guarantee, which satisfies you completely. We pledge that our detailed craftsmanship will make your design aspirations come true. If you should become dissatisfied with your floors within 30 days of installation, we will replace your floors with a product of equal value at no cost to you.


Contact us about installing hardwood flooring in your home. We proudly serve customers in Hendersonville, North Carolina, and the surrounding areas.