Flooring Installation in Hendersonville, NC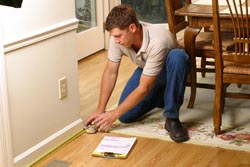 Our flooring installation services are performed by trained staff who use the proper methods of new floor installation—from preparation to hauling away the old carpet—for our customers. Our technicians undergo rigorous training to ensure they know how best to deal with the home environment while installing new hardwood, carpet, laminate, tile, or vinyl flooring.
Trust the skilled and experienced staff at our flooring company. Whether we are performing carpet, hardwood, or tile installation for your place of business, or vinyl and laminate installation for your kitchen or bathroom at home, we always deliver top-notch services that strive to cause little disruption to your daily routine or the things inside your home or office.


Preparing Your Home or Office for New Floor Installation
Through our Star Service program, the management at our flooring company trains and supervises all of our installation crews. Because we demand superior quality and professionalism in our flooring installers, we make sure that they have been instructed in how to take special care of your home during the installation process.
We also offer recommendations on how you can partner with us and make the job proceed smoothly and efficiently. Let us work together with you to ensure you are satisfied with every aspect of your new floor installation experience.
In general, we ask that you abide by all of the following to ensure we give you the superior quality service you deserve:
Make sure your home temperature is at a minimum of 65 degrees during the installation process.

Take care of any breakables inside or on top of furniture.

Be sure that electrical outlets are turned on.

Any pictures or wall coverings at a low or floor-length height may interfere with the installers movements. It is optimal to have them at least 36 inches above the floor.

Clean closets of low-hanging items, and provide a 36-inch space to allow the installers the room they need.

You may need to trim the bottoms of some doors to accommodate the changes in the height of your new floors.

Make any arrangements to move pool tables, grand pianos, and wood stoves, as well as any appliances that require special handling, such as gas appliances, alarm systems, etc.
Carpet, Vinyl, Laminate, Tile & Hardwood Installation Preparations
We take great steps to ensure the safety of your property during our installation of carpet, vinyl, laminate, tile or hardwood. Before we enter your home, we strongly suggest that you move all of your breakable items from the room that we will work in to ensure their safety. Breakables such as crystal, porcelain, and china should be removed from the work area to protect them in case we need to shift around the shelves, cabinets, hutches, or tables where they are stored.
We aim to minimize any disruption in your household from our flooring installation, so we want to ensure that we are barely in your way when we perform our installation services. We will work around your schedule and provide our services as conveniently as possible for your entire household.
10% Discount OFF Everyday Dealer Pricing for Sam's Club Members*
*10% Discount Off Everyday Dealer Pricing for Sam's Club Members. Sam's Club Home Install Experts™ powered by Service Finance Company, LLC and its affiliates (collectively, "SFC") through its third-party authorized dealers ("Dealers") provide Sam's Club Members with a 10% discount off the Everyday Dealer Pricing
homeinstallexperts.com

We proudly serve the communities of Western North Carolina, Asheville, South Asheville, Brevard, Trion, Columbus, Hendersonville, Waynesville, Black Mountain and Brevard.