Carpet Flooring in Hendersonville, NC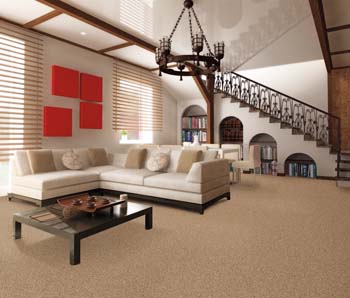 Upgrade your property with new carpet flooring in Hendersonville, NC. Turn to Flooring America of Western North Carolina for stylish options that fit your preference and budget. Innovations in design and manufacturing now make carpet flooring an even more beneficial investment for any structure. Discover for yourself why carpet flooring has been a favorite for residential and commercial properties over the last several decades.
Types of Carpet Floors We Offer
At Flooring America of Western North Carolina in Hendersonville, we carry different types of carpet floors designed and manufactured by some of today's leading brands. By only carrying carpet floors made from the best, you are sure to get new flooring that won't disappoint in appearance or performance.
With options like frieze, saxony, loop and more, our experienced sales associates will be able to help you find the style of carpet flooring that fits perfectly with any room you envision. Some of the types of carpet floors we offer include products manufactured by:
Tigressa
Stainmaster
Resista
Innovia
Home Craft
Heath & Home


Benefits of New Carpet for your Hendersonville Home
Besides a fresh and updated appearance, investing in new carpet offers a number of benefits for any space. Whether you are tired of stubborn stains or are simply ready to enhance the look of a room, Flooring America of Western North Carolina has you covered.
Since our inception, we have made it our mission to make the process of shopping for new carpet in Hendersonville easy and enjoyable. We like to remind our customers of the benefits of new carpet, including advantages like the following:
Get to Handpick a Style That Reflects Your Taste
Provides Warmth & Comfort for Any Room
Softens Slips & Falls of Inhabitants
Long-Lasting Performance with Minimal Maintenance
Call <PHONE> to find out what selections of new carpet flooring may suit you best.
Guaranteed Carpet Installation – Hendersonville NC – Asheville NC – Western NC
The carpet installation from Flooring America of Western North Carolina is backed by our Ultimate Confidence Guarantee! This means that if you aren't happy with the finished results of our carpet installation or the appearance of the product, we will provide you with new carpet floors of equal or lesser value.
This is just another way for us to ensure that you are satisfied. Every carpet installation in Hendersonville, NC, and the surrounding areas is completed by trained and experienced contractors that know exactly what it takes to get the job done right. If you reside in any of the following Western North Carolina areas, you too can take advantage of this carpet installation:
Hendersonville
Asheville
Waynesville
Black Mountain
Brevard
Marshall
If you need new carpet flooring for your residential or commercial space, contact Flooring America of Western North Carolina at <PHONE> or by using the on-page form! We offer carpet installation in Hendersonville, Asheville, Waynesville, Black Mountain, Brevard, Marshall and the rest of Western North Carolina.



We proudly serve the communities of Western North Carolina, Asheville, South Asheville, Brevard, Trion, Columbus, Hendersonville, Waynesville, Black Mountain and Brevard.